SOLON CITY LEADERS LEGACY
We're cruel and benighted and proud of it!
Discarding logic, compassion and justice for the sake of some ornamental bushes, bloodlust and expediency.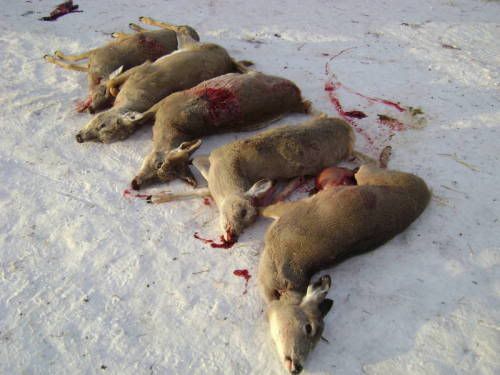 How long will we continue allowing Solon's elected officials (who are public servants in fact) to persist in squandering public dollars to satiate their obscene blood-lust, slaughtering innocent, semi-tame deer in a blood-drenched, deeply depraved annual canned hunt?
How long will we continue to swallow their lies, distortions and perversions of the truth, as they insist that the gun and hunting lobby-driven mantra that killing is the ONLY means of managing human-caused white-tailed deer over-populations is the Gospel truth?
How long will we swallow the lie that slaughtering sentient beings is somehow "humane," despite the facts that we humans caused the overpopulation of deer and that there are many alternatives to killing?
Please be sure to join our Solon voting bloc. Go to www.lohv-ohio.org and click on join us.
Email our elected officials to voice your opposition.
Please continue to spread the word to everyone.
For City Contact Info click
here
and for media contact info click
here
.
Back to Main Site